PARTNERSHIP WITH AUCD
The Association of University Centers on Disabilities (AUCD) will serve a key role in managing the overall functioning of the Network and will serve as the data repository for the initiative. AUCD is a network of interdisciplinary centers advancing policy and practice for and with individuals with developmental and other disabilities, their families, and communities. The AIR-P is poised to be highly successful based on our partnership with AUCD and their network of 133 university centers who are now members of the AIR-P Network.
AUCD will serve a key role in managing the AIR-P Network research infrastructure and will provide:
An online data system to collect intake, treatment, and outcome data for all study participants, according to protocol-specific requirements
Serve as a data repository for research projects
Provide additional support such as quality control to ensure the successful completion of the scientific goals of a research project and other research network activities
AIR-P Network
The interdisciplinary AIR-P Network will lead, promote, and coordinate national research activities to improve the physical health and well-being of autistic children and adolescents across the lifespan. The Research Network will consist of the Network Coordinating Center (NCC) based at UCLA as well as 15 Collaborating Research Entities (CREs – listed below) and six Research Nodes with expertise in priority areas for autistic individuals.
AUCD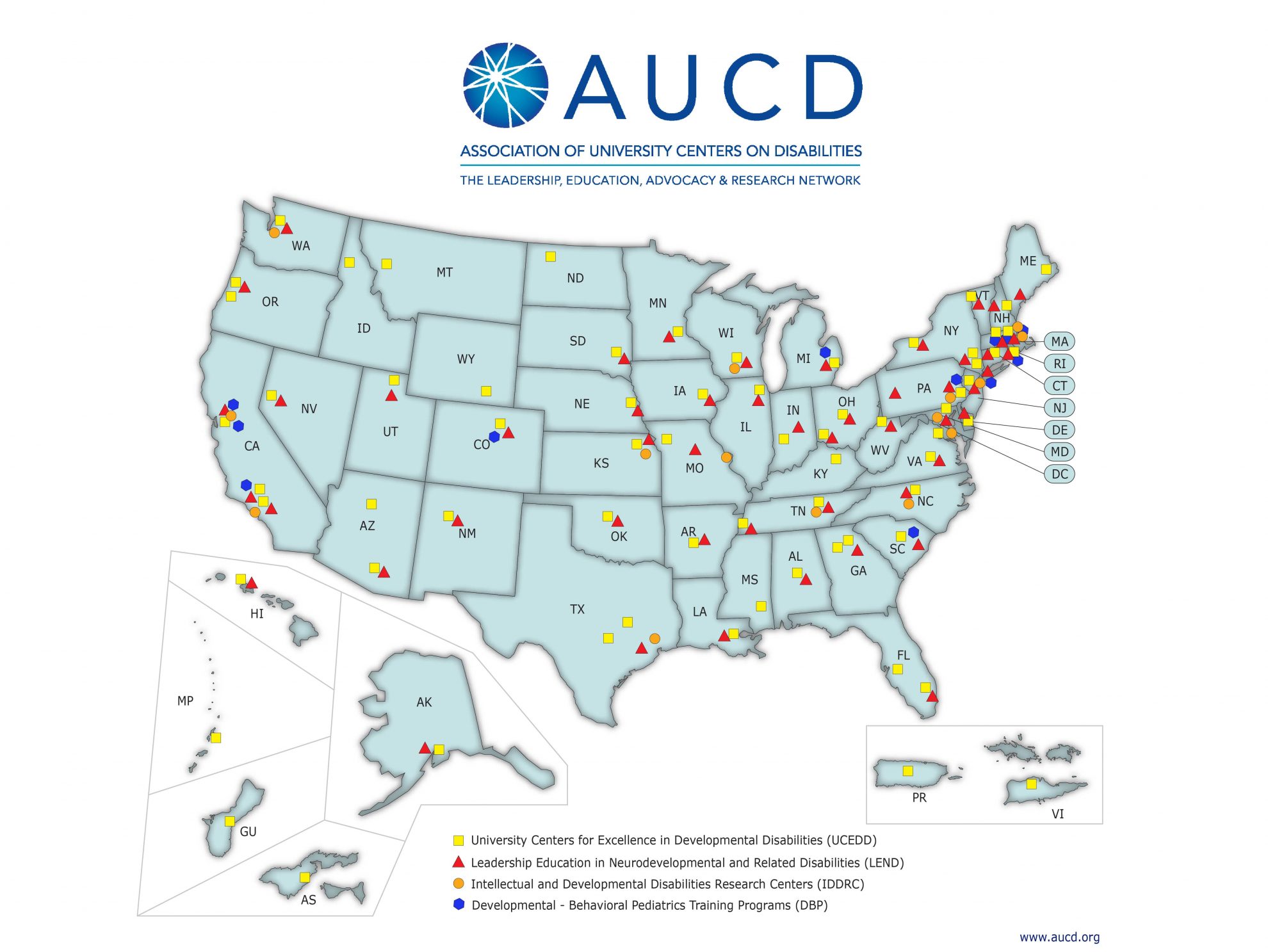 AUCD's national network of university-based interdisciplinary programs consisting of 67 University Centers of Excellence in Developmental Disabilities (UCEDDs), 52 Leadership Education in Neurodevelopmental Disabilities (LENDs), 14 Intellectual and Developmental Disabilities Research Centers (IDDRCs), and 12 Developmental-Behavioral Pediatrics (DBP) programs.
List of Collaborating Research Entities
Carolina Institute for Developmental Disabilities at University of North Carolina at Chapel Hill
Center for Human Development at University of Alaska Anchorage
Center on Human Development and Disability at University of Washington
Indiana Institute on Disability and Community at Indiana University
Institute on Community Integration at University of Minnesota
Institute on Disability and Human Development at University of Illinois at Chicago
JFK Partners at University of Colorado Denver
Kansas University Center on Developmental Disabilities at University of Kansas
Kennedy Krieger Institute
Mailman Center for Child Development at University of Miami Miller School of Medicine
Rose F. Kennedy Center at Albert Einstein College of Medicine, Montefiore Medical Center
Sonoran UCEDD at University of Arizona
The Boggs Center on Developmental Disabilities at Rutgers Robert Wood Johnson Medical School
University of California Davis MIND Institute