The AIR-P Network felt an expansion was needed to facilitate the participatory research component outlined in the AIR-P research agenda. To embrace opportunities for expansion, we are currently evaluating our scope of work and preparing to recruit additional members in the near future.
Stay tuned for an update!
We are grateful to the Autistic Researcher Review Board (ARRB) for their pioneering work in promoting AIR-P's goal of being a participatory research network.
Their scope of work finished as of December 31, 2022.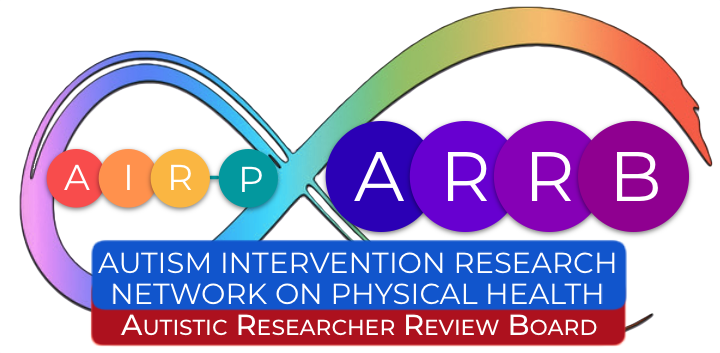 We thank our previous members:
Heather Brown, PhD
Associate Professor, University of Alberta
Patrick Dwyer, MA
PhD Candidate, UC Davis
---
Dena Gassner, MSW
Adjunct Professor, Towson University
Morénike Giwa-Onaiwu, MA
Rice University
---
Steven Kapp, PhD
Lecturer, University of Portsmouth
Jackie Ryan , MA, CPA, CMA, PhD Candidate
Director of Neurodivergent Strategy at Center for Autism Services Alberta
---
TC Waisman, EdD, MA
University of Calgary
Zack Williams, BS, MD/PhD Candidate
Vanderbilt University School of Medicine
---
A summary of achievements includes but is not limited to:
Involved in structure and development meetings
Assisted in drafting a reviewer rubric and conducting mock reviews 
As a part of the feasibility funding opportunity, members reviewed project outlines and full proposals
Members collaborated on the following articles within AIR-P and external organizations. These publications were submitted as a part of the AIR-P supplement in the journal of Pediatrics:
Ethics in Genetics and Autism Research

Led by Heini Natri and co-led by Julian Martinez 

GSR Node-Advisory Board

Led by Node Leaders Lisa Croen and Maria Massolo
Board members: Dena Gassner and Morénike Giwa Onaiwu